Here's a scenario for you to imagine. You woke up and had your breakfast. You realize that you should do some home cleaning this morning. But your work does not permit you the time. So you leave your messy, unorganized room and stinky dishes as they are. The dishes have piled up for almost a week now. But, when you get back in the evening, you find everything in perfect order. The dishes are clean and organized in their place. The shelves are organized, the carpets are vacuumed, and the floor is shining like a diamond. What would be your first reaction?
Honestly, if I had asked this question a few years back, the answer would have been elation and curiosity to meet the magic elves who were cleaning my apartment. Thanks to on-demand home services that all these incidents are common to experience in the present time.
An on-demand home service app aids people in managing their busy lives. These mobile apps enable people to hire someone to manage their household chores or daily chores where they'd need constant help. It could be anything, including cleaning, plumbing, painting, moving, and organization.
Eager to find out more about these mobile apps and their future scope? For the next 12 minutes, I will take you on a journey to the world of on-demand home services app development. We'll look into reasons why the industry is gaining momentum, the top players, future predictions, marketing strategies, its tech canvas, and so on. We'll also ponder upon the question "how to build an on-demand home services app."
Key Takeaways:
Let's Roll!
On-Demand Apps: The Next Big Thing
The shift in the attitude and behavior of consumers and their constant need to be satisfied instantly is the sole reason why on-demand apps have become necessary. This is the sole purpose that has awakened the desire to analyze modern consumer needs and provide solutions accordingly. Luxury online services provide users with exactly what they need and when they need it.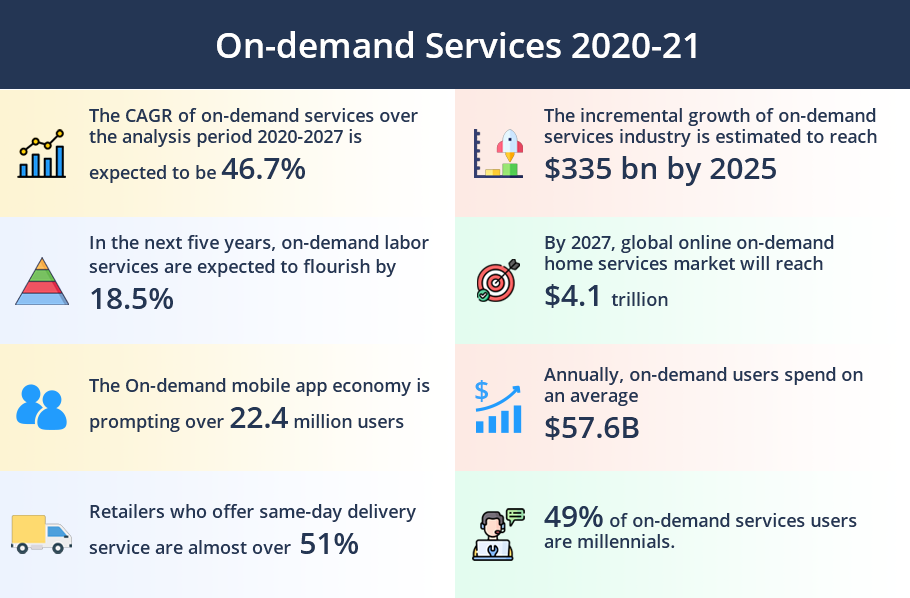 Whether you want to share your ride with a friend, get your groceries delivered on time, get your laundry done, get your house cleaned, get your furniture assembled, or do any other daily-life tasks – there's an app for everything!
So, you might wonder what is the need for on-demand services when you already have eCommerce apps that provide everything you need. That's true; on-demand apps are like eCommerce apps, then why on-demand? The answer is in its name itself. On-demand is how services are delivered to a buyer. On-demand business models focus on a unique selling proposition that lies in its convenience and spontaneity. These businesses come with unique business ideas that are sustainable, scalable, and lucrative within the defined period. Let's quickly have a look at all the existing home-services models:
Types of On-Demand Home Services Apps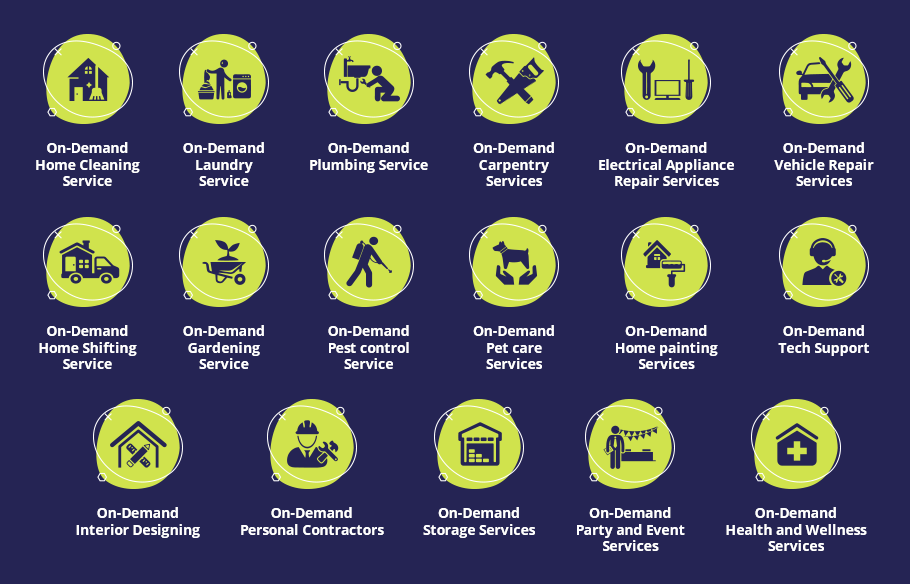 Popular Apps For On-Demand Home Services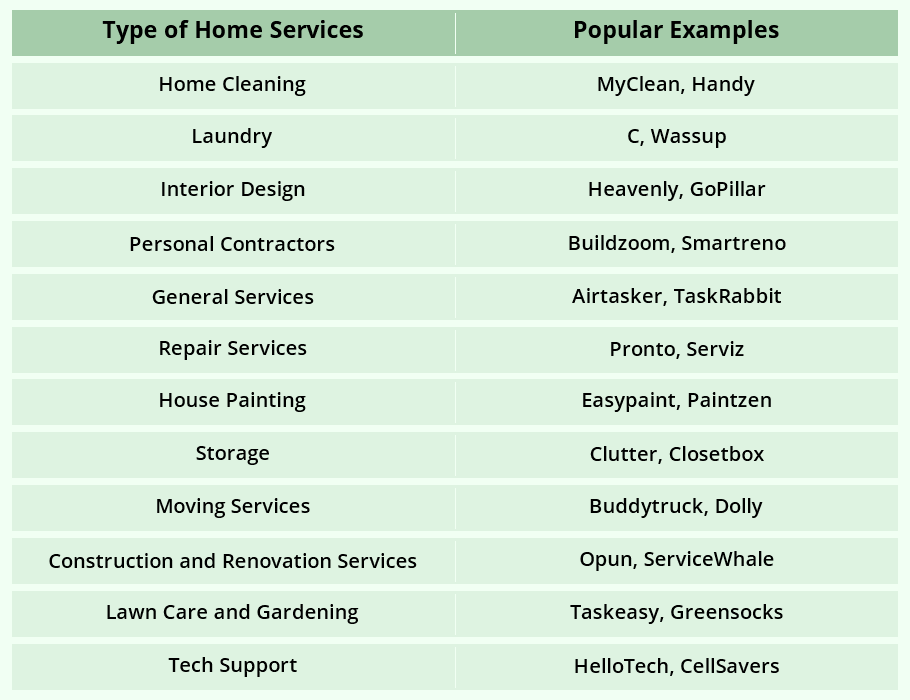 The above table shows just a few examples of on-demand services. The on-demand home services business presents vast opportunities, and many areas remain untouched. So, what niche do you want for your on-demand home services app development?
The primary answer to delivering an exceptional customer experience lies at the core of its development. And only experts can bring an exceptional app together. Our on-demand home services app development experts at Biztech have created an exceptional proto-type of home services app. Would you like to check it out?
Build an On-Demand Home Services App in Five Steps
Before we move forward with the question "how to build an on-demand home services app," it is crucial to understand how the general on-demand services app model works. Although on-demand services span an extensive range of industries and niches, the basic flow of the app remains quite the same. You can easily understand and observe the prime working process of the app and apply it to any on-demand service that you plan to launch. Here's how it works:

(Source)
Step 1: Identify Your Niche and Your Audience
The first step in on-demand service app development is to identify your niche and do a comprehensive market study. Figure out the type of service and industry niche you want to step into. You can stick to only one service or can opt for multiple services too.
You need to understand the current market and use this expertise to detect a gap in existing solutions. You can then find a comprehensive solution for the same problem.
An extensive study of the market will help you find:
Who your competitors are.
What strategies are your competitors using
What are the strengths and weaknesses of your competitors
What is their unique selling proposition
Are the customers happy with what your competitors are providing?
If not, then what exactly do they want?
These questions would suffice to escape the errors of your opponents. You can then double down on your tactics and specifically identify particular solutions to the existing problems.
Step 2: On-Demand Service App Development: Business Model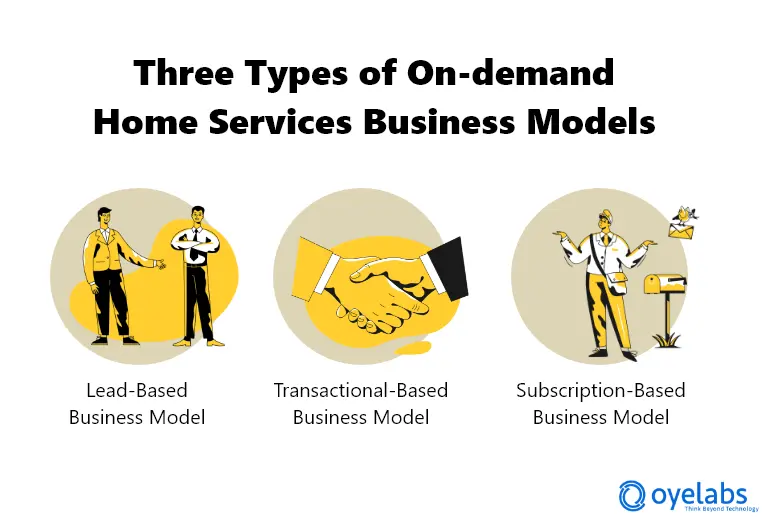 (Source)
I. Subscription-based Model
If your business model offers a service that doesn't require a one-time fee, then this model is best for you. Through this model, you'll receive monthly, weekly, or yearly recurring subscription revenue. The biggest advantage of a subscription model is customer retention. This is because customers won't have to book services every time. That'll save them a lot of effort, time, and cost.
Example: Alfred
Hello Alfred is a New York-based corporation that delivers home maintenance services. It was awarded prizes and over $60 million in financing by Marcela Sapone and Jess Beck in 2014. They have a subscription business model. Since its inception, Alfred has provided people with services that they didn't have time to do.
II. Transactional-based Model
This model allows you to take a percentage of every transaction that happens on your platform. The model is simple—more transactions will bring more revenue. Transactional models are easily scalable. It is beneficial for end-users, too, as they only need to pay for the services they require.
Example: TaskRabbit
TaskRabbit began in Boston in 2008. It was built as a forum for those who needed service and who wanted to give their time for those services. Over the past ten years, TaskRabbit has shifted from a simple concept to a business earning more than 40 million dollars. It has around 2 million active customers and thousands of vendors in 40 locations across the United States and abroad. In 2017 IKEA took over TaskRabbit as a wholly-owned independent IKEA subsidiary.
The three-step model of how the TaskRabbit app works:

TaskRabbit earns its revenue by earning from every transaction that happens through the app.
The service provider on the market takes a certain percentage of each sale that happens under a transaction-based service model. In other words, the more sales they pay, the more profits they receive. This also helps make the platform scalable.
This model is good for consumers since customers pay only when anything is needed. This lowers the start-up costs with low profits and risks contributing to a rise in supply and prestige for both manufacturers and consumers.
III. Lead-based Model
Suppose a customer is looking for a home cleaning service and approaches a platform that works on this model. The home service provider will bring several professionals to one place who will bid for the task, and the customer chooses the quote they think is the best.
The lead-based model is beneficial for everyone involved. This is because:
Customers can compare quotes from various suppliers and make informed decisions.
Suppliers get the benefit of visibility and online presence.
The aggregators get increased traffic from new customers.
Example: Thumbtack
Thumbtack is an example of the lead-based model. Thumbtack does not charge a commission for jobs; they only charge the service providers a fee to quote.
Interesting Fact:
Thumbtack had experimented with a subscription and a transaction model before opting for the lead-based solution. It is one of the most popular brands in the lead-based model approach.
Step 3: On-Demand Home Services App Development: Features
Customer Panel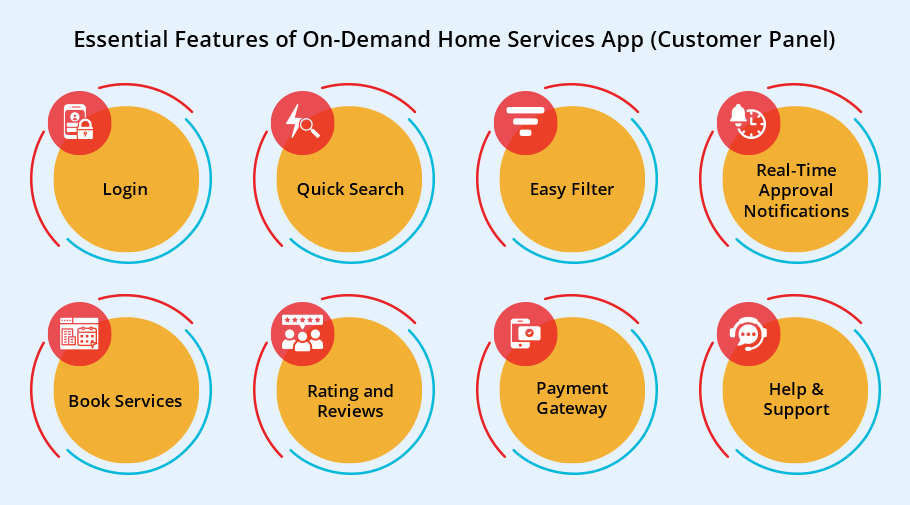 Login – For a better user experience, you need to make the sign-in as simple as possible. We suggest you go with the social login feature as it creates faster access to your app than the traditional sign-in. For you, this option will provide more reliable access to user data which you can use for personalization.
Quick Search – A good app is easy for users. You must provide different navigational filters using which the user can find what they are looking for.
Easy Filter – Users must be able to find services without any hassle. Therefore, a filter feature is a must-have! Filters like finding a service provider based on cost, specialty, distance, etc., would improve the user experience considerably.
Real-Time Approval Notifications – Notifications are the easiest way to interact with your users and retain them. The best practice for push notifications is to keep them clear, personal, and timely. With this feature, you can notify users about the latest updates, discounts, etc.
Book Services – This feature lets users instantly book a service. Consider adding a reschedule option in case the service is not available in the given time frame.
Rating and Reviews – When choosing a service, people value the opinion of others. Having a review feature will allow customers to choose a high-rated service provider.
Payment Gateway – Secure and hassle-free payment options play a significant role in the success of your apps. Make sure you choose payment options that are both commonly used and secure.
Help & Support – Users may face many difficulties while using the app. To resolve this issue, you must have a help & support feature with a mixture of FAQs, customer helpline support, chat support, and tutorial videos.
Service Provider Panel
Easy Registration – Your app should have a quick registration process for the service providers. Once they submit the necessary documents, they can start working immediately.
Service Management – This feature allows the service provider to manage real-time requests by accepting or rejecting them. Here, you can even add the notification feature to notify the provider if a customer requests a service.
Real-Time Chat – This is a must-have feature for both the customer and the service provider. An in-built chat system will help reduce the confusion between both parties and solve queries.
Payment Details & Additional Costs – The service providers can add different payment details wherever they wish to receive their payments. They can also add additional charges such as for transportation in case a user lives far away.
Feedback – The feedback process is not just limited to the customers. It works both ways. So, you can include a feedback feature where service providers can also rate the end-users based on various criteria.
Admin Panel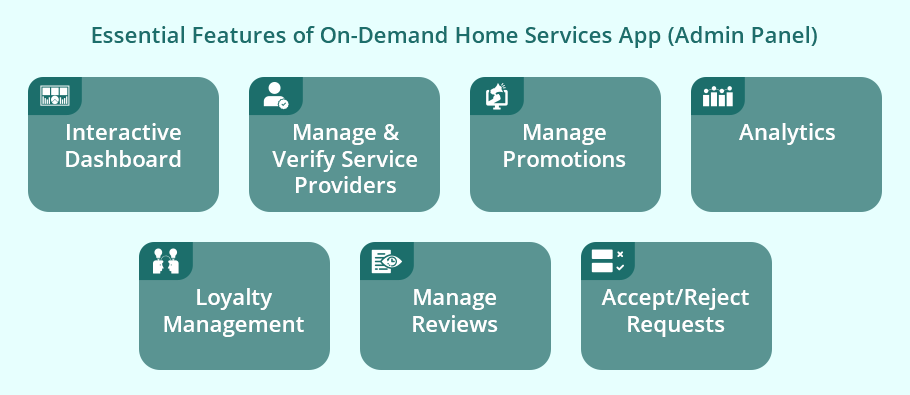 Interactive Dashboard – An interactive dashboard is a must for the admin panel. Your dashboard will act as a control center for the entire app.
Manage Promotions – You can offer various lucrative promos and discounts to promote your apps. This feature enables you to track your progress with respect to the discounts offered.
Manage & Verify Service Providers – This feature enables admins to manage all the service providers. They can also add new service providers manually. Apart from this, they must verify the profiles of all service providers and prevent any fraudulent registration.
Analytics – This feature provides the users with an in-depth insight into their business. They can see all the critical information which would help them make better business decisions.
Loyalty Management – With this feature, you can offer various lucrative promotions and discounts to promote your application. The feature will help you deliver appropriate offers and deals.
Manage Reviews – This feature will allow the business owners to go through both the positives and negative reviews of the customers about their products. This is helpful to improve the brand image by considering customer feedback.
Accept/Reject Requests – Service providers have the authority to review the requests and accept or reject if they like the job or reject it if they don't.
As they say, actions speak louder than words; there is a massive difference between reading about the features and visually experiencing their work. If you're still confused about how the features function and how things will work for your on-demand service app development, try taking an interactive demo.
Step 4: Know Your Monetization Model
An app plays a wide range of functions in your company. It is therefore evident to bring revenue directly from the app. While the development team works on developing your dream app, you can focus on how to earn from your app.
In-app advertisements are the most common way to monetize your app. The three types of ad revenue are:
CPM: Cost per thousand impressions
CPC: Cost per click
CPA: Cost per action
You can also consider implementing banner ads. Ad banners can be static as well as animated. You also need to make sure that you align with established brands and choose ads that will not cause any damage to your brand. Also, think about the commission or service fee that you will be charging.
Step 5: Partner with a Development Company
Before you begin searching for on-demand home services app development companies, you need to create a blueprint/wireframe of how you want your app to function.
A wireframe is a visual guide that represents the app layout, its functionalities, and the flow of the app. The importance of creating a wireframe is that it lets you visualize a complete app experience, thus helping you create an intuitive and fully functional app.
Your on-demand home service app development needs a team who knows what technology stack to use and the latest features that can enhance the user experience. So, if you're looking for a reliable team to build your app, you must consider taking a demo. We have a ready-to-go prototype for an on-demand home services app. We can customize the prototype as and how you want. Take a demo of the prototype and find it out yourself!
Strategies to Turn Your On-Demand Home Service App Into a Success
Strategizing is imperative for any on-demand home service application. While strategizing, you need to think about the exact user pain point, find out about the existing market offering and detect the gap between what users need and solutions provided. Here are some strategies to help you stand out:
I. Identify Crucial Customer Needs
The general features won't do you any good. You need to think about optimizing the current solutions. This will only happen if you think from the user's perspective. Put yourself in your end user's shoes and see where it takes you.
Once you've caught the exact thing that is lacking in the legacy home-services solutions, you'll have your USP! You can also take surveys and ask the end-users for their opinion on how they would like the services to improve.
II. Keep an Eye on the Competition
So, you're done researching the pain points of your customers. But, along with the knowledge of your customer's needs, it is equally important to know what your competitors are doing. Keep studying and analyzing your competitors. This will also keep you updated about the latest trends and features that they're using. It also maintains a healthy competition and motivates you to do more.
III. Advanced Features
You can always ace the race by providing features that no one else provides. You can quickly gain public attention if your services and features are intriguing and unique. The advanced features of your app will entirely depend on your niche industry.
IV. Marketing Strategies
Once you have the tech stack fix for your app, the next would be to focus on your marketing plan. You need to start marketing your app even before the first line of the code is written. Create a website for a single-page app, use social media to make people aware of your existence, and inform them that your app will be brilliant and helpful. Talk about how you're planning to make life easier for your end-users. Give them a good idea of what they can expect from your app.
V. UI and UX
You may have the best value that nobody else can deliver, but the lack of a user-friendly interface will be a significant hindrance. Your app won't show expected success in the shop. An intuitive application design can attract more clients and help to retain the existing client base. Hence a simple yet eye-catching UI is what you need!
VI. Invent Your Own Business Model
Services like Uber, Urbanclap, TaskRabbit did not set out to be exceptional or grand. Instead, what they did was solve the most basic problems with tech. They invented a business model that did not exist before that. The uniqueness of their idea was what made them popular. No matter how advanced we become, there will always be room for innovation. Besides, it is more fun to try out new things and solve problems in new ways.
On-Demand Home Services App Development: Work With Experts
Customers of the 21st century have a busy lifestyle, and they prefer on-demand services over anything else. This is the main reason why on-demand home service apps are gaining so much popularity. I hope I was able to cover answers to all your doubts. The factors mentioned in this post are crucial and must be considered while making an on-demand home services app.
The planning and strategizing part ends here. The next part is, to begin with, the development process. Let me tell you, there can be multiple constraints and challenges associated with the development process. It differs from industry to industry and depends on the services and business models you pick.
An out-of-the-box idea will make you shine, but innovative development partners will build you the most lucrative solution. The right development process and effective marketing can make your app successful. And only experts can help you turn your vision into a mobile app. We can help you build your on-demand home services app with features built from scratch. With 14+ years of experience, we specialize in on-demand service app development for Android, iOS, and cross-platform apps.
Whether you need help and guidance along your on-demand service app development journey or you want to outsource the project, we're here for you. We have a proto-type demo for an on-demand app ready to go. Try it yourself and find out!

All product and company names are trademarks™, registered® or copyright© trademarks of their respective holders. Use of them does not imply any affiliation with or endorsement by them.