How We Got Here
Years of Experience
Dynamic Individuals
Completed Projects
Maulik Shah
Chief Executive Officer
I founded Biztech with the vision to bridge the gap between business needs and technology. Coming from the technology background, it was a natural transition that has shaped the success of Biztech in the past 13 years. However, Biztech's success is truly a collective effort of everyone involved since its inception.

It is important to cultivate a culture of learning and provide opportunities for individuals to grow. In my experience, it gives astounding stability to projects, brings creative ideas to the table, and gives long term returns. It is something that has given an excellent retention ratio in terms of the resources as well as our clientele.

Biztech's vision is to fulfill the role of providing solutions that are beyond the scope of work and to make contributions that add value. Only a learning organization that is not only driven by the processes but is also responsive to the ever-changing landscape, can offer such a solution.

Over the years, we've helped our clients go from being SMBs to Enterprises. Our motto is to grow by helping you grow.
Amit Shah
Finance Director
I help keep Biztech's business model sustainable which in turn helps Biztech spread its wings and try out new things. I guide Maulik, CEO of Biztech, in making any major financial decisions.
Apart from handling the finance department, I am the CEO of one of our verticals that revolves around Ecommerce and ERP products. Having a passion for eCommerce and its future capabilities, I learned about it gradually and developed a deep interest in CRM simultaneously. This, in turn, helped me take AppJetty, to new heights of success. I have been associated with Biztech IT Consultancy since its inception in the capacity of Finance Director as well as Magento and CRM Evangelist for AppJetty.
All these years have been engaged in crafting and developing multiple Ecommerce and CRM Extensions with diverse features and usabilities for online businesses, seeking advanced business solutions for keeping pace with the changing trends of eCommerce. It is never easy for a small store owner to stay connected and competitive in this dynamic marketplace, which shifts its paradigm every few days. This inspired me to create something useful, yet cost-effective, for online merchants enabling them to address the dynamism of the global eCommerce platform.
I have been a part of Biztech's journey since its beginning and have helped make Biztech a place to grow, to learn, and to express oneself. It was my conscious effort to develop the culture that makes everyone feel at home and part of the family - beyond everything else. My own first-hand experience that had helped me bring the best of myself to the table, made me understand the importance of a friendly work culture. Hence, I stressed on embedding these values within the culture of Biztech. And, continue to nurture it. As a result, a majority of our leads have started their career with us and grown over the years.
When it comes to people management, I pay attention to listening instead of focusing on the processes and the goals. My idea of building an organization is not just attracting talent, but also to provide a system that builds talents. This approach not only helped us during the early years of Biztech but also laid a foundation for the collaborative agile working teams we have today.
Pratik Shah
Head of Design & Frontend
A certified agile coach and ISO:27001 Internal auditor, Pratik Shah is currently the Head of Design & Frontend Development at Biztech IT Consultancy. He combines his creativity, problem-solving approach and efficient leadership skills to help his team members steer through all the technical impediments they face.
He manages and overviews execution of clients' web-design projects, the design team, resolves inter-team conflicts (if any), sets up new processes to smoothen operations and conducts training sessions.
His vast and diversified experience of 14 years with HTML5, CSS3, JQuery, JSON, website design and development, JQuery mobile, JQuery UI, JavaScript, etc., deep insight into the nuances of UI/UX design and innovative mind help him stay on top of clients' demands.
Besides being at the helm of the creative team, he is also the Chief Information Security Officer. As a CISO, he takes care of Information Security and sees to it that everyone in the company follows defined security standards.
Achal Chhajed
Vice President – Sales
With 11 years of experience in sales, Achal Chhajed is currently the Vice President (Sales) at Biztech IT Consultancy. Let's talk numbers - you'll hear him say this at least 20 times a day. But don't be mistaken, he doesn't ask for sales numbers. He only focuses on the number of happy customers and good reviews. He started his journey with us back in July 2016 as a Business Development Manager. He explores new business opportunities and potential markets for the promotion of our products and services, overviews the implementation of inbound and outbound sales processes, manages sales targets for various sectors and handles a team of sales executives.
Besides keeping himself abreast of the latest sales and marketing approaches, he also leaves no stone unturned in building rapport with our customers and seeing to it that they are happy and satisfied with work. His deep insight into the right marketing approaches has helped us connect with the right customers.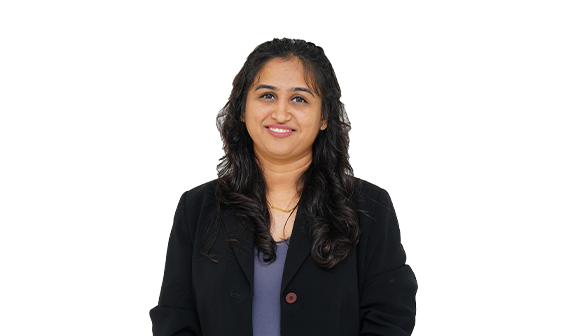 Poonam Shreevastav
Project Manager
Poonam has been working with Biztech IT Consultancy since 2009. She started her journey as a Junior PHP Developer and today she is a Project Manager responsible for handling and managing major projects with an abundance of knowledge about a variety of PHP frameworks and other technologies.
To keep up with the constant change in the technology industry she makes sure to subscribe to a variety of newsletters, reads blogs and attends relevant sessions. She handles a majority of the client calls, understands the user requirement and takes care of project deliverables.
For her to deliver quality work, she works closely with clients and makes sure to understand their point of view and demands. Additionally, she ensures that the team has thorough clarity on the project and helps enhance the way the team works together.
When she is not working, she loves reading, watching motivational videos, and shopping. She studies strategies of other companies, analyzes them and uses them in her own unique way to meet the challenges that she meets.
Dhaval Darji
Engineering Manager
Dhaval Darji started his professional career with us in 2010 and since then he has been an invaluable part of the Biztech family, especially when it comes to expanding our technology horizons. He started with us as a Junior Developer and today he, proudly and rightfully, handles our DevOps Dept., Engineering Dept., and Security Dept.
His love for technology and constantly learning new things has made our concept of Innovation Lab a reality at Biztech IT Consultancy. He loves exploring technologies like IoT, Machine Learning, DevOps, Cyber Security, etc. He understands the fact that technology evolves every day and the key to keeping up with this changing landscape is constant learning.
He keeps up with technology by following multiple forums, reading different blogs, newsletters, attending conferences and events, etc. As an Engineering Manager, he makes sure that our company stands ahead in this constantly changing landscape of technology and always moves ahead with the vision of enhancing and expanding our technical verticals.
Namita Sheth
Project Manager
With vast experience of over 10 years in Magento development, Namita Sheth is a head-strong project manager at Biztech. She juggles all responsibilities ranging from handling client communication, multiple tech-teams to successful project completion. She is equally involved with one of our flagship products called Brush Your Ideas and handles the business side responsibilities like reviewing marketing strategies, customer journey, and sales strategies.
Manali Parikh
Sr. Team Lead – QA
Manali Parikh started her professional journey with Biztech IT Consultancy. She is the pioneer of the QA department and has been with us for over 10 years now. She is a certified - TUV Internal Auditor 2018.
Her knowledge of manual & automation testing is limitless and she currently heads the QA department. She always empowers her team members to take risks and try something new. She manages all our Software Testing clients and overviews their projects from requirement gathering to delivering fully tested products and software.
Over the course, she has developed a team of QAs who pay attention to detail, and are committed to delivering quality and only quality. She also makes sure that the clients' requirements are achieved and the brand's reputation is maintained. Additionally, her team also handles the quality testing of all Biztechs' products and services. Her self learning attitude has helped her achieve a lot of things. She keeps up with the current technology trends and how it affects the QA industry.
Apart from the technical skills, she has impeccable soft skills that help her understand her team members as well as clients making her an approachable person.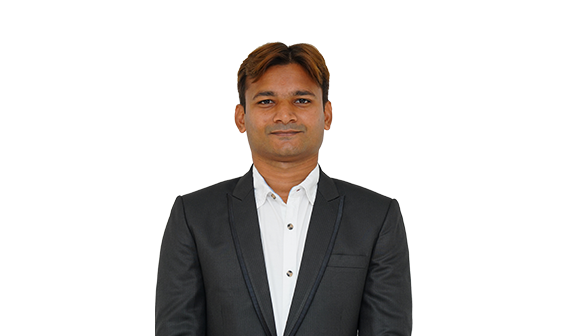 Dhaval Panara
Digital Marketing Manager
Dhaval is a Google Adwords certified Digital Marketer with over 7 years of experience. More than 2 years ago, he joined our marketing team as an SEO strategist. In the span of 2 years, he has climbed to the position of Deputy Digital Marketing Manager. His ability to adapt to changing requirements of the current space of Digital Marketing is at the core of his success and the growth of Biztech's product sales as well as the clients' managed by him.
Dhaval Panara is an SEO expert who can project revenue growth based on SEO strategy alone. And that is not all. In his first-ever PPC project, he was asked to deal with a challenging task to optimize an already saturated campaign. In less than 4-6 weeks, he reduced the cost by 1/8th and still had revenue growth of 20%. He is an astute leader who has created the next line of leadership for the company. Talking about going out of the way to solve problems, when SEO strategy failed, he did not hesitate to look past the On Page and Off Page SEO.
He brings the perfect mix of understanding the "required changes" to ensure improved conversion. Dhaval has been awarded "Employee of the Year" for the financial year 2017-18 and has been nominated for the "Inspirational Leadership Award".
Jay Jagani
Product Manager
Jay had 6.5 years of industrial experience before joining Biztech. He has worked in a myriad of positions from Business Development Executive, Senior Software Developer to a Product Manager for a startup company. These experiences and roles make him perfect for the role of Functional Product Manager.
He believes in the strong combination of technology and management which helps him define the scope of our company's expansion. Being an avid reader, he makes sure to keep up with the constant change happening in the technology industry by reading various books, blogs, and articles.
He understands the fact that having hurdles is a part of a manager's life and knows how to handle them tactfully. Currently, he is heading our strategy and analytics team where he makes sure that Biztech and its other verticals are on the right path.
Apart from work, Jay loves playing cricket which helps him in team management, planning, taking calculated risks, coming out of his comfort zone and achieving goals.
Chandni Pandya
Head of Content
With extensive experience in Marketing + Content industries, Chandni Pandya currently leads the Content Department. She started her journey with us back in 2018 as a Sr. SEO Executive. Her success mantra is to be consistent with your content game. She believes in the power of content that can transform the marketing game entirely for any business.
She is currently driving Content Marketing Strategies right from identifying content ideas to defining the process for content creation, distribution to achieve annual user acquisition and sales targets.
Chandni brings the perfect combination of marketing + content to drive desired conversion improvement. This balanced understanding helps her to drive an end to end process for business growth.
Meet Our Partners
Fernan DelgadoPartner | USA
Fernan is based out of Santa Ana and leads the business operations in the US. He has an extensive background in product and operations management for different industries.
Peter BrunnerPartner | Switzerland
Peter Brunner manages the business operations for the Switzerland region. With over a decade of experience in different industries, he suggests viable tech solutions to businesses.