Develop Customer-Centric
Applications Using Swift
Develop intuitive, interactive, and responsive applications using Swift. Hire dedicated Swift developers from Biztech who have in-depth knowledge about custom Swift application development. Leverage our Swift development services, and our experienced in-house developers will provide you with a complete custom solution.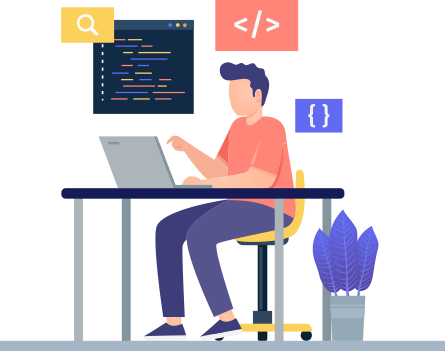 Hire Swift Developers from Biztech
Have a Swift mobile app development idea but don't know where to start from? Don't worry, Swift development company, Biztech, can be your technical partner. We have 14 years of experience in serving enterprise clients and provide users with the perfect solution. Our experienced 250+ developers develop complete custom robust, interactive, intuitive, feature-rich, and responsive applications. The hunt for the right talented developers ends at Biztech. Our skilled developers will handle all the complexities of your application and provide you with the perfect solution which helps your business grow and provides your users with appealing experiences.
Available Integrations with
Swift App Development
Hire dedicated Swift app developers from Biztech and develop feature-rich applications that expand your business reach.
PHP
NodeJS
.NET
AWS
Azure
PHP is an open-source programming language that many developers use to build applications. Using PHP, you can efficiently handle all the complex frontend development processes. It's easy to learn, and the large community of developers makes it a go-to solution for developers. Integrate PHP with Swift and provide your users with an intuitive experience. Rely on the power of MySql and PHP to store and share your users' data securely. Leverage our Swift app development services; stand ahead of the competition, and provide a perfect solution to your users.
NodeJS is a programming language written in JavaScript, making it efficient to develop intuitive frontend applications. Integrate NodeJS with Swift and develop responsive and feature-rich applications. At Swift app development company, Biztech, you will get the right team of skilled and knowledgeable developers who will provide you with custom development solutions. NodeJS will handle all the complex backend operations whereas, with Swift, it becomes easy to develop the frontend. Let us help you build the right product which fulfills your business needs.
Integrate Swift with one of the strongest programming languages of the Microsoft ecosystem, i.e. .NET. .NET will efficiently handle all the complex requirements of the backend. Swift is efficient enough to handle complex frontend requirements. At Swift development company, Biztech, rely on the expertise of our Swift developers; they will provide you solutions to any and every complex solution. Hire Swift developers from us and bring the best minds together to turn your ideas to life. You can build an optimal solution that provides your users a better experience and helps you retain them.
Develop cloud solutions with AWS and provide your customers with access to your application from anywhere and anytime. Our Swift developers will provide you with a complete solution and will leverage the power of the cloud solution. With cloud, you can easily develop, deploy, and maintain your applications. This provides more uptime and seamless experience, resulting in a great user experience and a better retainment ratio. With Swift app development company, Biztech, you rely on our Swift development services and build robust, scalable, and interactive applications.
Azure is the second most used cloud solution for uploading and providing users with scalable applications. With the right team, build the solution which upscales your application and provides better performance. Azure is efficient enough to handle thousands of users simultaneously, and Swift will handle the complexities of development. Our developers are efficient enough to handle all complexities of cloud and Swift development. Collaborate with us and let our team of developers build efficient and robust applications that help you provide the perfect solution.